Discussion Starter
·
#1
·
Folks,
Without warning the other day the truck died on me while driving. 1988 RC, 318 with TBI (fuel injection) Symptoms:
-Heater blower motor, lamps, and all in cab electrical (including most of dash) worked without issue.
-Able to turn engine over without issue.
-Temps and pressures where they were supposed to be.
-Noticed fuel level moved to Empty.
-Trying to start the engine, fuel pump would not 'prime.'
After popping the hood to look for point of failure, wasn't able to find one. Tried turning engine on again, fuel pump primed, fuel gauge went back to where it was supposed to be (3/4), and the engine started up without issue. In trying to inspect the electrical system, no mechanisms of failure were found.
Here are the diagrams I used from the FSM:
And the splice locations: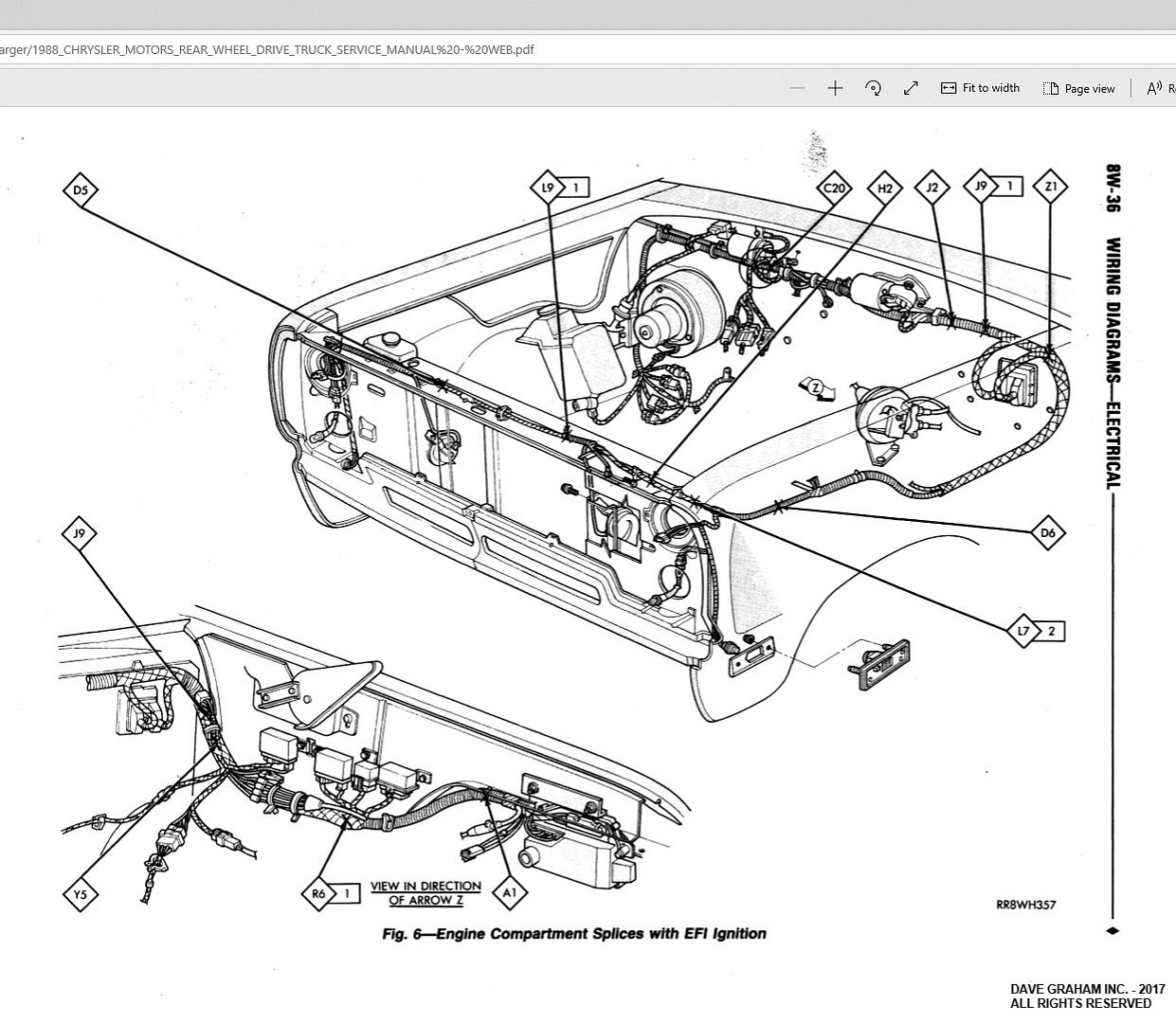 And a bit of text:
So, with all that, I was looking at a fault that would cause the fuel gauge to go to E along with the fuel pump not working. Initially I checked the the connectors and splice locations. The 8 point connector (
D60 - left side, third of the way up from the bottom
), Voltage was measured between Z1 and X2. During priming and engine running for a period of time, 13.5-13.9V, stabilized at 13.8V.
The splice at J9-1 (
D47 top right corner, and Fig.5, beside the windshield wiper motor
), no corrosion or physical fault found.
The problem has not returned after nearly 100 miles of driving through various conditions. However, when filling up the tank (needle was at half), I expected 30-33L of fuel... filled it up with 63L. Given the way the fuel level is measured with resistance, and that half a tank on the gauge was actually almost empty (
text page 8E-1
), this leads me to believe a ground issue.
In order for it to be a ground failure, the point of failure (for both gauge and pump to fail the way they did), needs to be somewhere between splice J9-1 and splice X2-1 (where X2 and X20 come together) -
D60, lower left side.
As I haven't been able to duplicate the issue, and I don't want it happening when I'm driving to/from the hospital appointments, my thought is to cut X2 and X20 before the splice, and connect a short 18G wire and ground it directly to the frame to remove any failure in the wiring between J9-1 and X2-1.
Before I start cutting and connecting, what are your thoughts on this one? Anything else I should be looking at?
Mark.